About Us
Avi has been an entrepreneur since an early age. In high school, Avi founded and managed a laundry service and founded America Eats For Israel. He made aliyah in 2008 and served as a combat soldier in the Kfir Brigade. After his army service, Avi founded City of Gold with only 1 apartment and has gradually built and expanded City of Gold to become one of Jerusalem's largest management companies with a staff of 20+ and over 200 apartments. Avi lives in Maale Adumim with his wife, Arielle, and their 5 children and enjoys gardening in his free time.
Avi Goldberg
Founder and CEO
Raised in Beit Shemesh in an English-speaking family, Michal is a graduate of Tourism and Hotel Management studies at Ben Gurion University of the Negev.  She loves to travel and draws on those experiences to constantly improve guest services at City of Gold.
Michal Arram
Account Manager - Rental Department
From Efrat, Josh completed his compulsory service in the air force.  With a passion for real estate and business, Josh is enjoying learning more about real estate in Israel, hiking with friends around our amazing country, and spending time with family.
Josh Apfelbaum
Vacation Rental Manager
Aaron made aliyah in 2015 from Columbus, OH to Emek Hefer, before settling in Jerusalem in 2018. After many years of experience in home renovations, Aaron transitioned into plumbing 10 years ago. He is now an all-around excellent handyman with expertise in plumbing, painting, tiling, and general repairs. In his free time, Aaron enjoys spending time with his wife and 4 kids. 
Aaron Beavers
Plumber and Handyman
After many years of teaching music in her hometown of Teaneck, NJ, Dina made aliyah in 2013 and transitioned into the field of non-profit fundraising, and later consulting. Dina has a strong background in administration and logistics and thoroughly enjoys a good Excel spreadsheet. Dina lives in Jerusalem with her husband and 3 adorable children and in her free time, enjoys hiking and playing the guitar.
Dina Davidovics
Director of Business Development
Born in Efrat to South African parents, Yoni is very familiar with the challenges facing English speakers in Israel.  After his IDF service in the Tanks unit, where he specialized in logistics, Yoni owned an electrician business specializing in new developments for several years before joining the City of Gold team. Yoni lives in Jerusalem with his wife and children. In his free time he enjoys woodworking and yoga.
Originally from Chicago, Avi made aliyah after high school.  He served in the Kfir Brigade (Netzach Yehuda) of the IDF, and continues to mix reserve duty with his job at City of Gold.  Avi lives in Dolev with his wife and 3 children.  He enjoys hanging out with friends and eating good food.
Avi Gutstein
Sr. Property Manager
Raised in England, Uzi made aliyah in 2013.  Upon his arrival he enlisted in the hesder program of the IDF where he served in the Kfir Brigade and learned at Yeshivat haKotel.  He is an accomplished chazzan and is currently studying to receive smicha.  When he is not working, Uzi enjoys singing, reading, and just relaxing.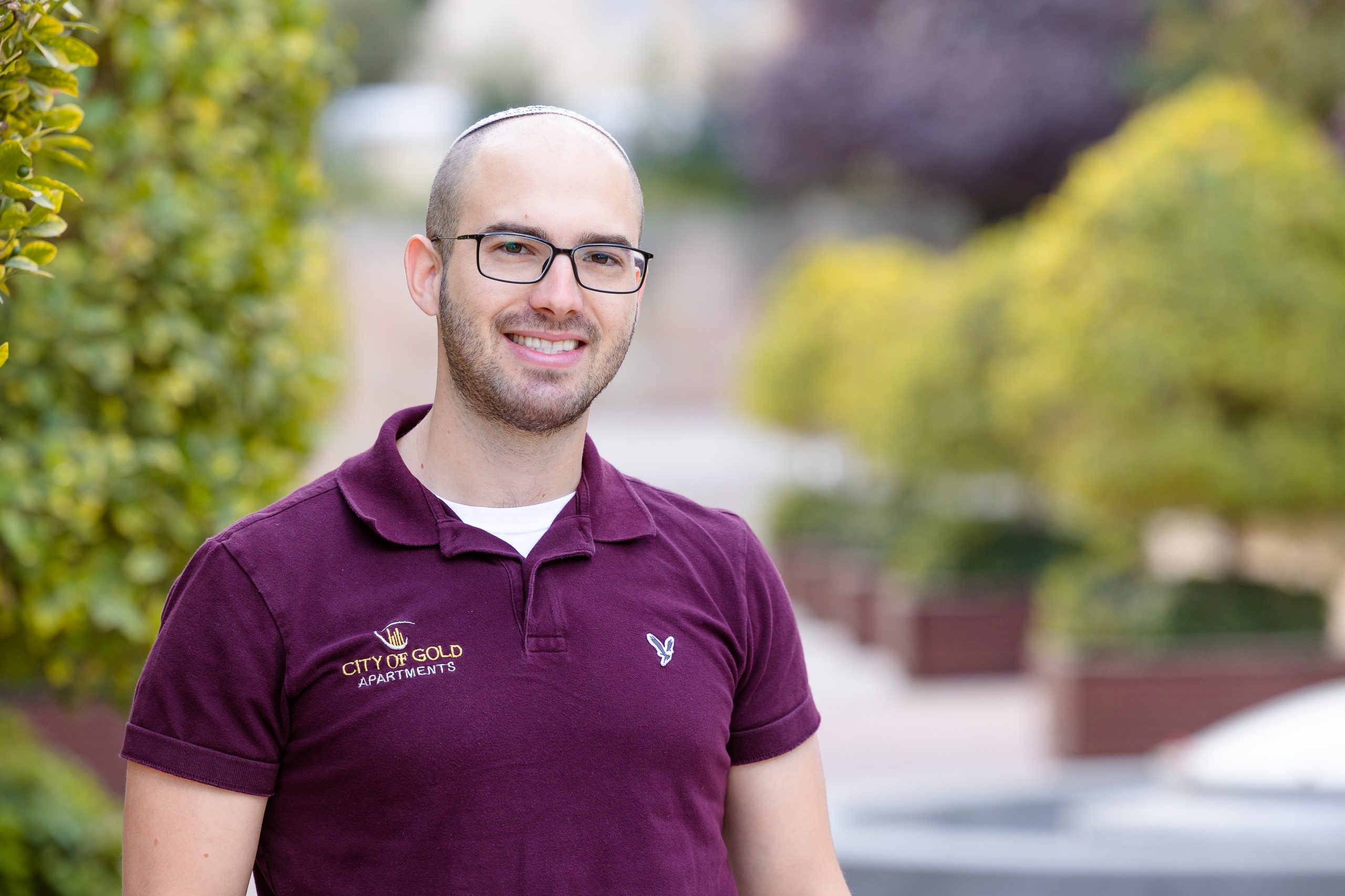 Originally from North Miami Beach, Yechiel made aliyah after completing his yeshiva studies at Ohr Somayach.  He comes to City of Gold with a strong background in household maintenance and repairs.  Married and living in Jerusalem with his family, Yechiel enjoys writing, cooking, listening to podcasts, and spending time at home.
Yechiel Widman
Maintenance
Raised in Maale Michmas in the Judean hills, Jakey attended high school in Jerusalem and completed his army service in the Kfir Brigade.  Following his discharge, he spent several years in service positions abroad before returning to Israel and joining the staff of City of Gold.  When he's not on call, Jakey enjoys hiking, touring, and playing music.
Sara has been in Israel since 2013 after making Aliyah from Houston, TX.  Sara previously worked in an international hospitality and management company where she started as an entry-level Guest Relations Associate and quickly worked her way up to become the Director of Operations, managing over 80+ apartments. In her free time, Sara enjoys singing and listening to music. 
Sara Shulman
Sr. Account Manager
Born and raised in Jerusalem and currently living in the Gilo neighbourhood with his wife and son, Shlomo comes to City of Gold with extensive experience in building, repairs, and restoration.  A volunteer with "Yedidim", Shlomo enjoys preparing good food and spending time in nature.
Shlomo Graus
Sr. Property Manager
Born and raised in London, Rami has an undergraduate degree from Middlesex University in accounts and marketing.  He enjoys music, learning (especially Jewish texts), and networking.  He lives with his wife and children in the Pisgat Zeev neighbourhood of Jerusalem.
Rami Bassalian
Jr. Operations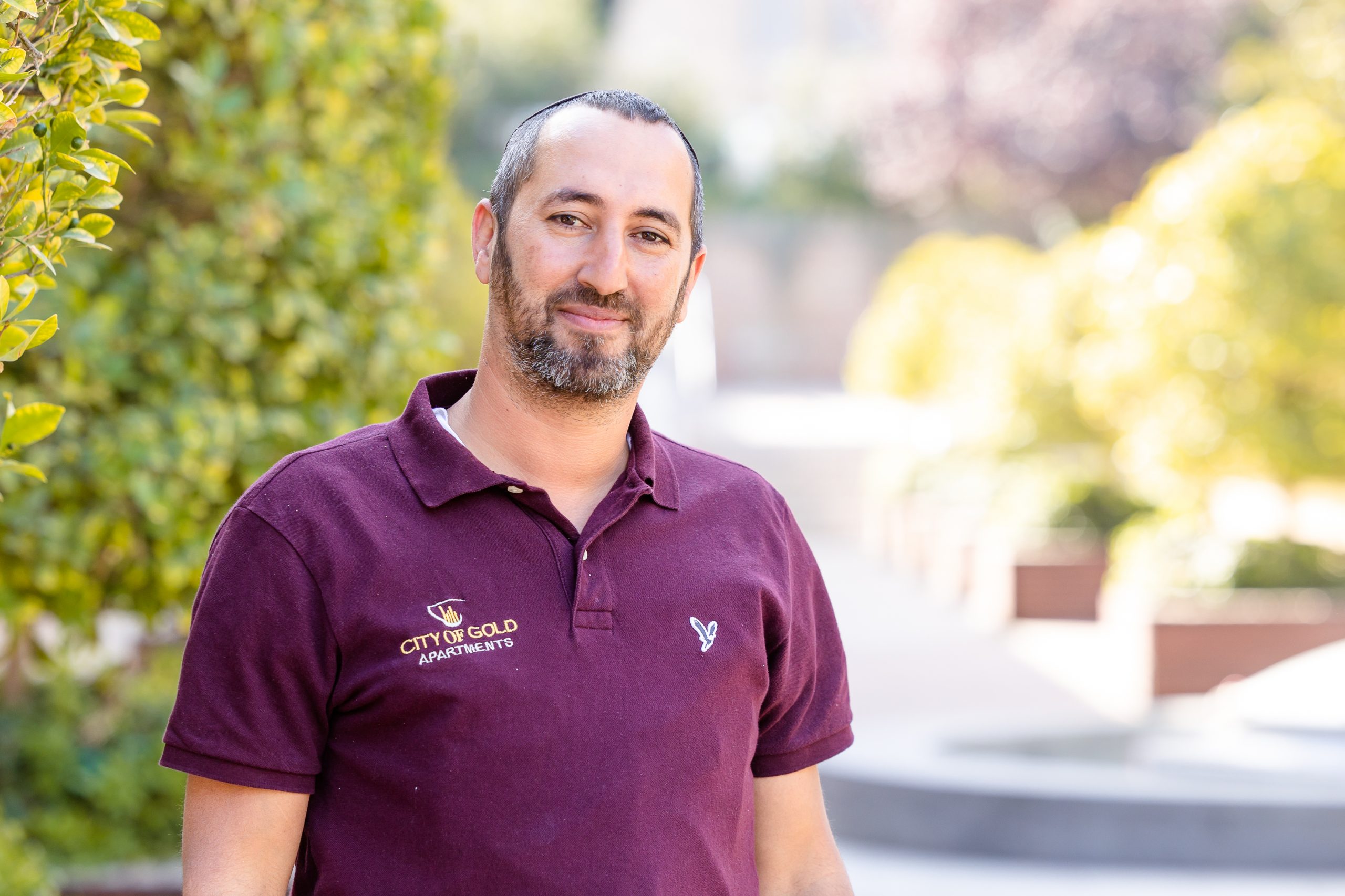 Shai joined City of Gold after years of working in the construction industry, both as an independent contractor and for various government entities.  He is now completing certification for site and project management.  Shai lives in Jerusalem with his wife and five children.  In his free time he enjoys ATVing and playing football (soccer).
Marion was born and raised in Toronto, making aliyah in 2003.  In addition to an undergraduate degree in languages and linguistics from McGill University, Marion also completed the ICPAI certification for payroll professionals in Israel.  When she is not working, Marion enjoys needlework, photography, music, and experimenting in the kitchen (the last, much to the delight of her children).